Are you embarrassed to show your smile in pictures? Do you cover up your teeth when in conversation? Misaligned or crooked teeth often makes patients feel embarrassed about how their smiles look. Don't hide your smile anymore! For patients in Wasilla, AK and surrounding areas in the Mat-Su, Meridian Dental has got just the ticket with Invisalign.
What is Invisalign? How Does it Work?
Invisalign is a teeth alignment treatment that uses a series of clear, plastic orthodontic retainers to gradually straighten teeth and properly align smiles. That includes resolving problems such as overbites and underbites, gap teeth, misaligned teeth that are causing jaw pain, or crooked teeth.
Each Invisalign retainer or clear aligner is custom created and molded for your teeth using a 3D scanner in our dental office. You will receive a new set of aligners about every 2 weeks, each one closer to a straight, well-aligned smile.
Once teeth are where you want them to be, you will receive a pair of retainers to keep the teeth in place after treatment. Wear these retainers just at night, not around the clock like you will with the clear aligners during treatment.
Why Should I Align my Teeth with Invisalign?
What are some of the advantages to Invisalign, especially compared to other orthodontic treatments such as traditional, metal braces? Here are just a few pros to consider: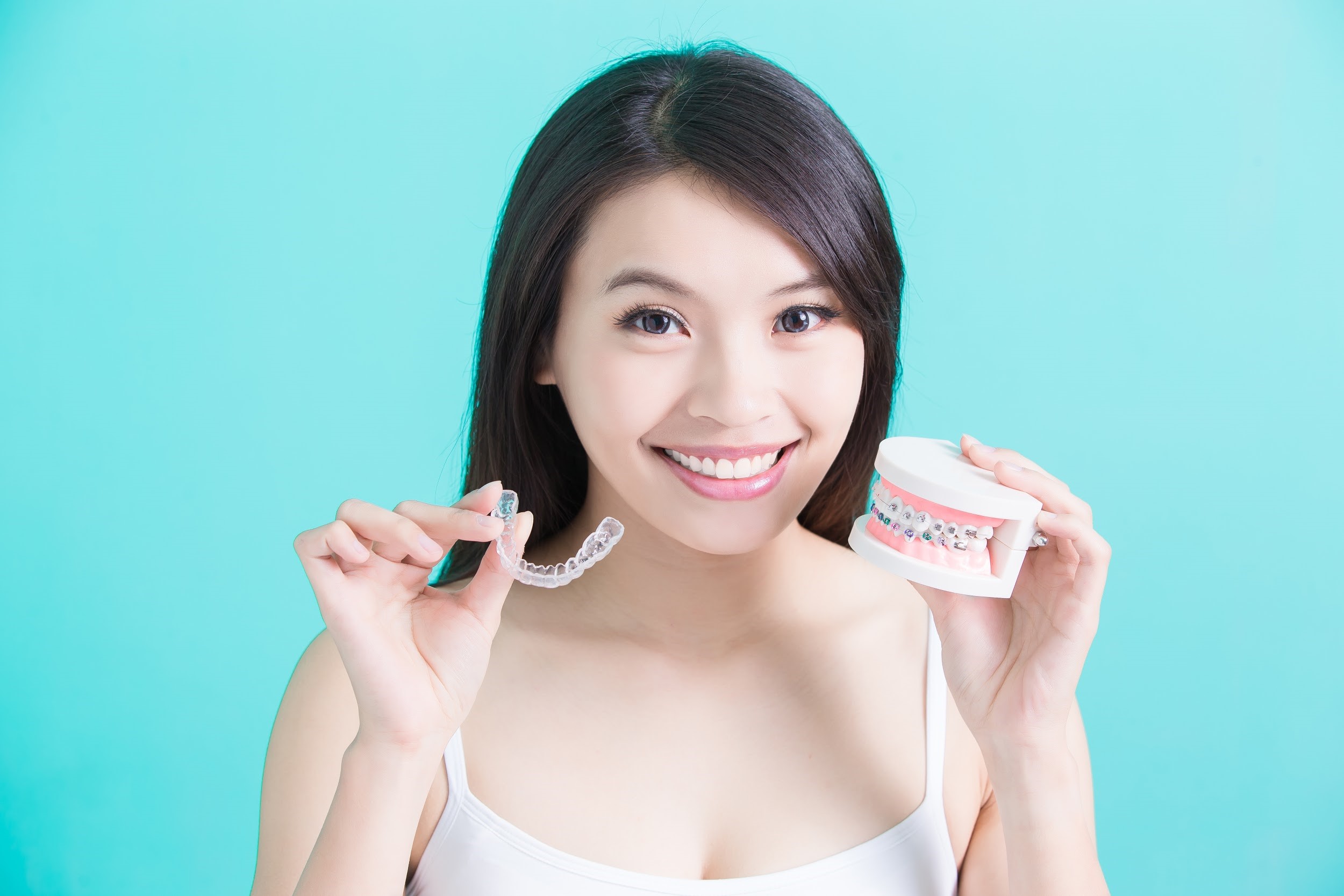 Invisalign aligners are removable! This may be one of the biggest benefits that patients love about this treatment. Unlike metal braces, aligners can pop in and out of your mouth. Our dentist will ask that you remove aligners when eating and brushing teeth. Be aware, though, that just because you can remove aligners, doesn't mean that you should remove them more than is necessary. For treatment to work quicker and more effectively, wear aligners at least 20-22 hours each day.
The clear aligners are nearly invisible. Another huge pro for patients is how the aligners are hardly noticeable. They don't stand out like metal braces do. A majority of people won't even be able to tell that you have aligners in!
They are smooth and less likely to cause sores. Invisalign patients don't have to deal with the hassle of metal brackets on their teeth. Brackets and wires can irritate a patient's mouth, resulting in painful sores and discomfort. Not with Invisalign! Patients experience some discomfort as teeth align, but the fitted, clear aligners lie flat along the surface of your teeth.
Removable aligners make it easier to prevent plaque buildup. Keeping teeth clean by maneuvering around braces' brackets is another hassle. Food catches in the brackets themselves and patients thread dental floss around wires. As such, plaque buildup is hard to avoid with braces. Nothing like that gets in the way of cleaning your teeth with Invisalign, though. Simply remove the aligners when it's time to eat and brush. Keeping the aligners clean isn't too difficult either with a specific Invisalign cleaner or denture cleaner.
No change to diet is required. Certain foods that stick to metal braces aren't restricted for Invisalign users. Free free to chew gum or eat other sticky foods, just so long as you remove your aligners!
Treatment is often completed in less time. For patients with less malocclusion, and who wear their aligners as often as they should, treatment is not as long as other orthodontic care. It's a way to straighten and align teeth without too much disruption to your way of living.
Get Your Invisalign Aligners at Meridian Dental!
Each treatment will come with its own pros and cons. But the pros for Invisalign are difficult to pass up! Meridian Dental is proud to provide Invisalign to our patients in and around Wasilla and Palmer, AK. We've seen just how beneficial and reliable this cosmetic dentistry treatment is for straightening teeth. The results are beautiful!
Schedule a consultation appointment with our Wasilla dentist to discuss if Invisalign is the right teeth alignment treatment for you. Let's help you love your smile.